Creating a safer, more reliable world
SEAM Group is a global, energized asset optimization leader focused on optimizing asset safety, reliability, and maintenance for more than 500 active clients operating in multiple industries and markets around the world.
Leveraging our One SEAM, One Solution approach, our team provides integrated solutions for common asset challenges through a comprehensive suite of capabilities:
As one of the leading asset management companies globally, we partner with clients in North America, Europe, and Asia. Each year, our expert and licensed team inspects, assesses, and supports more than 1 million energized assets — helping organizations in markets ranging from hospitality and pharmaceutical to food processing and consumer goods improve their safety and operational performance. 
At SEAM Group, we're a team focused on the future — both for our organization and yours. Learn about our mission, vision, and value statements
Why do people love working at SEAM Group? Each person brings their unique talents and individuality to contribute toward building a culture where everyone thrives.
Meet a global senior leadership team working to make a difference in our industry and beyond.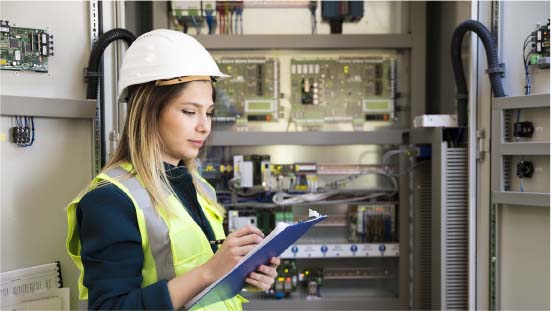 Looking for a career where you'll work with some of the largest brands? Join SEAM Group and help us fulfill our mission of creating a safer, more reliable world.
SEAM Group is the result of a 2018 merger between two industry leaders: Lewellyn Technology, an electrical training company founded in 1993, and Predictive Service, an infrared services company founded in 2002. Along the way, we have grown both organically and through strategic partnerships with other industry service providers:
1993 — Lewellyn Technology founded (Linton, IN)
2002 — Predictive Service founded (Cleveland, OH)
2016 — Predictive Service acquired Mid-Atlantic Infrared Services (Washington D.C.)
2018 — Lewellyn Technology, Predictive Service, and DTS merge to form SEAM Group
2019 — Acquired Balticberg (Warsaw, Poland)
2022 — Acquired EESCO, Electrical Engineering & Service Company, Inc. (Holbrook, MA)
Today, more than 350 SEAM Group team members work to create a safer, more reliable world by partnering with customers to deliver mission-critical outcomes. Whatever your industry or asset-related challenges may be, if your organization is looking to build a lasting, results-oriented partnership with an energized asset optimization company to help you improve asset performance in these key areas, our team is up to the challenge.
With team members and partners across the globe, our experts serve customers in North America, Europe, and Asia.
Let's connect and discuss how we can partner to create a safer, more reliable world.