Creating a Safer, More Reliable World
Optimize performance by integrating your safety, maintenance, and reliability approach. Imagine a safer, more reliable workplace that delivers mission-critical outcomes for your organization.
SEAM Group
delivers results for:
More than a vendor, SEAM Group functions as a strategic advisor to meet you where you are and take you where you need to be. From quick wins to complete programs, our team of experts is with you every step of the way. 
Safety
Reliability
Maintenance
Safety
Protect your people and energized assets with a safety-first approach
Safety issues can dramatically impact your overall business. An unbalanced safety strategy can lead to serious risk management shortfalls that set your organization back putting your most valuable asset, your people, at risk of injury or death. Your people and customers deserve the safest environment possible, and rely on you to take a safety-first approach. Are you confident in your safety program?
Reliability
Maintenance
Your Strategic, Collaborative Partner
Your success is our priority at SEAM Group. We work in the trenches with your teams to uncover quick wins, while also developing and managing long-term programs to help you exceed your safety, sustainability, reliability, and maintenance goals.
With experts who inspect more than 1 million energized assets per year for hundreds of customers across the world, we believe in providing outstanding experiences as we partner to build a safer, more reliable world.
"Thoroughness and dedication to completing projects. Always would recommend SEAM Group. Really enjoy working with them."
Region Vice President, real estate investing company
"Everything is always good since 2012. Any technical issues have always been resolved quickly. We are very happy with SEAM Group. Customer service is great."
Facility Manager, Public Education Facility
"We are happy with the recent online training we set up with SEAM Group. Self-paced, online training is convenient for our employees as they don't have to worry about going through 3-4 hours of material at once. The knowledge check and certificate of completion are also important to us."
Safety and Health Professional, Mechanical Equipment Manufacturing Facility
"ViewPoint helps us track infrared inspections, post-inspection repairs, and data for more than 40,000 assets in 250+ locations. Through our SEAM Group partnership, we have also been able to track more than one million dollars in energy savings per year."
Safety Manager, Food Processing Plant
Actionable Data is Key to Strong Safety, Reliability and Maintenance Programs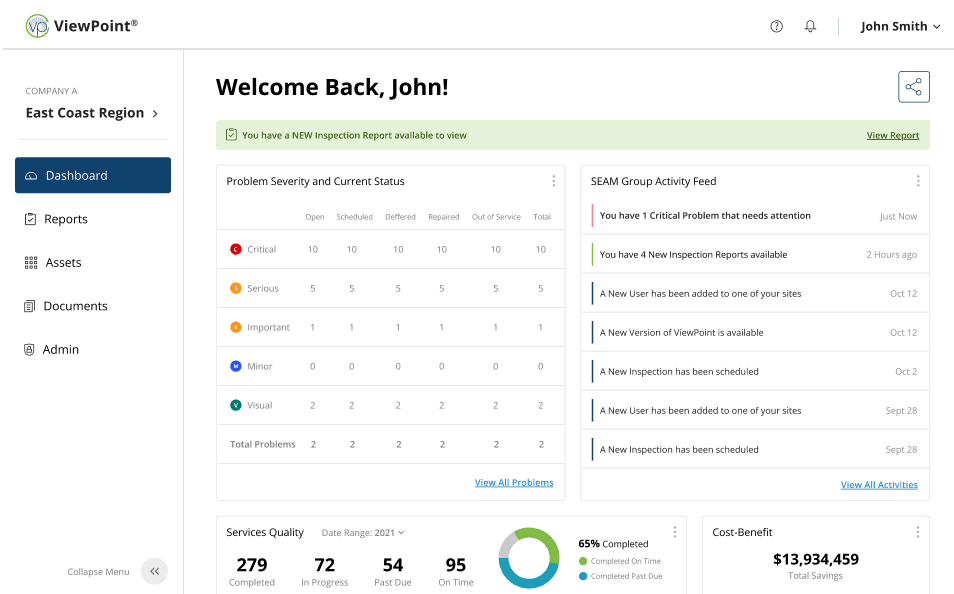 Customers partner with SEAM Group to solve problems and to make informed, data-driven decisions. ViewPoint is our technology platform that allows full transparency of your inspections findings, safety, reliability, maintenance programs. 
With desktop and mobile versions, ViewPoint is the perfect digital solution for both in-office and field operations – keeping your entire team connected for a more cohesive, sustainable approach.
Global Experts Who Help You Deliver Mission-Critical Outcomes
SEAM Group has proven experience and knowledge to advance the safety and reliability of your operation. Recognized as a global leader in energized asset performance, we are trusted by the world's largest brands to provide strategic advisory on safety, sustainability, maintenance and reliability solutions.
Our team of industry experts inspects 1 million energized assets annually and uses our breadth and depth of experience to deliver data-driven insights to customers around the world.
SEAM Group Expertise: By the Numbers
By our global team of experts
Safety, Reliability, and Maintenance Solutions for Your Company
Boost your energized asset performance capabilities with our solutions, ranging from training and consulting through field inspection, assessment, install, and repair.
Leverage data-driven insights to ensure the safety, reliability, and maintenance of your most critical assets
Drive a safer, more reliable organization with custom program management solutions
Take Charge of Your Career and Make a Difference with SEAM Group
As a growing professional with unique talent, you deserve a company that lets you spread your wings. Our culture is people-first, highly flexible, and centered around a culture of collaboration.
We love working together to solve our customers' biggest challenges, and are always looking for diverse, dependable talent.